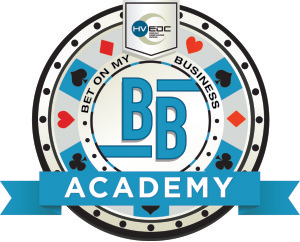 Last year (2016) we had the opportunity to participate in a special program developed by the Hudson Valley Economic Development (HVEDC) group called "Bet on my Business".  Am not aware of other programs outside of the Hudson Valley that does anything like the Bet on my Business program to support local businesses, so this may very well be the only one of its kind..and performed right here in the Hudson Valley, NY.
The Hudson Valley Economic Development Corporation (HVEDC) is the leading economic development organization for the Hudson Valley, New York region. Comprised of seven unique counties (Dutchess, Orange, Putnam, Rockland, Sullivan, Ulster and Westchester), each brings to the Hudson Valley its own colorful and powerful characteristics – equally contributing to the region's economic strength and exceptional quality of life.
We met on a monthly basis for a number of months. Part of the program incorporated customized business knowledge specific to small businesses (including entrepreneurs) performing business in the Hudson Valley.
Some positive examples our business took away from that program:
An increased knowledge and refresher of business knowledge
An open forum for asking questions to gain support specific to our businesses
An open forum to meet and communicate with members of the HVEDC and HRG (The Hospitality Resource Group) and other involved members within the Hudson Valley.
An opportunity to shadow with an extremely phenomenal representative from a Beer Distribution Company.
One of the most important -It took us away from our hectic day-to-day workload, to recognize the importance of having face time and open communications with other local businesses. We had an opportunity to network together with other business owners and employees in a laxed/professional environment.
We are proud to see this program continue again with a new class of 2017! Am looking forward to meeting with the participants at the upcoming 2017 Graduation Ceremony as it is important to be part of helping each other grow here in the Hudson Valley. Am hoping the new graduating class also takes away the direct and indirect values as much as we have from this awesome program.
For more information:

'Filed Under: News